Uses Of Minimally Invasive Robotic Surgery
Before the advent of surgical robots, urologic surgeons performed these procedures through large abdominal incisions or using less versatile and mobile laparoscopic instruments.
Robotic surgery is the most technologically advanced and minimally invasive approach to complex surgical procedures available today.
Max superspeciality Saket  Hospital is one of only a few highly experienced surgical teams in India  with the clinical and technological expertise to offer minimally invasive robotic surgery.
We are also one of the few medical centers in the country  – to use the state-of-the-art High Definition revolutionary da Vinci Surgery® Robotic System from Intuitive Surgical®  US  to perform robotic urologic surgery.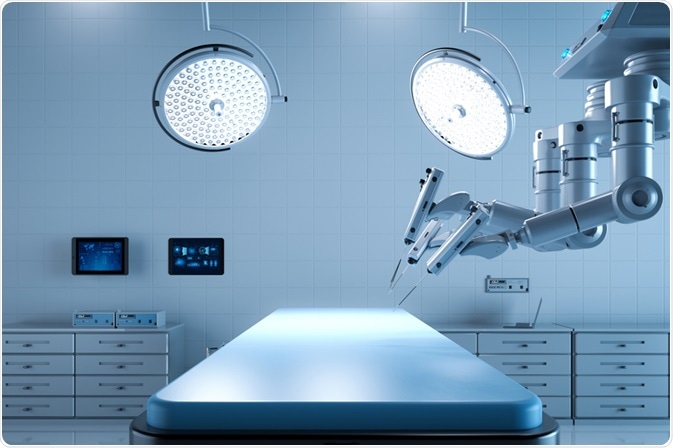 How Minimally Invasive Robotic Surgery Works
During minimally invasive robotic surgery the surgeon sits at a console next to the patient and controls four robotic arms. One arm holds a three-dimensional camera and controls its movements, while the other three hold miniaturized surgical tools, which precisely replicate the surgeon's hand and finger movements. 
The da Vinci robotic surgery system gives the surgeon a highly magnified view of the surgical field, and unsurpassed surgical dexterity and control. We work very closely with the manufacturer of the da Vinci system (Intuitive Surgical Inc. in Sunnyvale, California) to stay on the cutting edge of this technology.
Benefit Of Minimally Invasive Robotic Surgery
As with other minimally invasive procedures, patients who undergo minimally invasive robotic surgery benefit in several ways:
Shorter hospitalization
Reduced pain and discomfort
Faster recovery time and return to normal activities
Smaller incisions, resulting in reduced risk of infection
Reduced blood loss and transfusions
Minimal scarring
Most important of all, studies show that they may have better clinical outcomes.
Major advantages for surgeons using robotic surgery include:
Greater visualization
Enhanced dexterity
Greater precision
Robotic Urology Procedures
WHAT IS A ROBOTIC PROSTATECTOMY?
A Surgical procedure to completely remove a prostate gland, using enhanced precision and vision of the Da Vinci robot
WHAT ARE THE POTENTIAL RISKS AND COMPLICATIONS OF PROSTATECTOMY?
As compared to open procedure, patient has reduced chances of infection, impotence, and early recovery with equal cancer related outcomes
HOW LONG IS THE ROBOTIC PROSTATECTOMY PROCEDURE? 
Robotic prostatectomy typically takes about 2 to 3 hours.
IS GENERAL ANESTHESIA REQUIRED WITH ROBOTIC PROSTATECTOMY?
General anesthesia is required to keep patients sedated and to prevent pain during the procedure.
DO I NEED TO HAVE A BLOOD TRANSFUSION WITH ROBOTIC PROSTATECTOMY?
5-10% of patient will need blood transfusion
IS A CATHETER INSERTED IN MY URETHRA DURING ROBOTIC PROSTATECTOMY?
Yes, a catheter is inserted in the urethra and is connected to a drainage bag. During the prostatectomy, the catheter is used to drain the bladder.
WHEN IS THE CATHETER REMOVED?
The catheter is removed typically within seven to ten days following the procedure.
HOW LONG WILL I STAY IN THE HOSPITAL?
Patients are discharged once they are able to tolerate oral feed and mover around, roughly 2 days
WHAT MEASURES SHOULD BE TAKEN AFTER DISCHARGE?
Patients should avoid strenuous activity and take medications as directed. Local hygiene in from of regular washing of incision site and per urethral catheter, with soap and water, is recommended.
WILL I EXPERIENCE URINARY INCONTINENCE AFTER ROBOTIC PROSTATECTOMY?
Yes, but that gradually improves with the Kegel exercise, advised after surgery.
WILL I STILL BE ABLE TO HAVE AN ERECTION FOLLOWING PROSTATECTOMY?
Nerve preservation can be attempted in select cases, to preserve erectile function in selected cases, but sexual function recovery depends on age, prior sexual function, concurrent illness, medications and stress
WHY DOES PROSTATECTOMY AFFECT ERECTION?
While the prostate does not affect a male's ability to have erections, the surrounding nerves that are critical for having an erection may be damaged during prostatectomy.
WHAT HAPPENS WHEN NERVES ARE NOT SPARED DURING PROSTATECTOMY?
There are case in which important nerve for sexual function are removed, resulting in impotence. Erectile function, however, may be restored via nerve graft and reconstruction.
WHEN CAN AN ERECTION RETURN AFTER PROSTATE SURGERY?
Although the recovery of erectile function varies, patients regain it within one to two year after surgery. In few reported case, erections may return in as 4 weeks spontaneously or with medication.
WILL THE QUALITY OF AN ERECTION BE THE SAME BEFORE PROSTATECTOMY?
Reportedly, 84% of men said that erectile function returned to normal about one to two year after prostatectomy. Only 13% of men claimed their erections were weaker.
WILL PROSTATECTOMY AFFECT MY LIBIDO?
Prostatectomy does not affect libido. Your sex drive is primarily affected by testosterone.
WHEN CAN I RESUME SEXUAL ACTIVITIES?
You can resume physical intimacy as soon as you feel better. This potentially improves your chances of regaining erectile function much earlier. You can have sexual intercourse when erectile function is recovered within one to two years after prostatectomy. Also, there are treatments available for satisfactory sex life including Viagra and penile injection therapy."
ARE NERVES ASSOCIATED WITH SEXUAL FUNCTION SPARED DURING LAPAROSCOPIC AND ROBOTIC
PROSTATECTOMY?
During laparoscopic and robotic prostatectomy, nerves associated with sexual function are spared if the cancer has not yet spread. It's important to keep in mind that satisfactory erectile function is not guaranteed by nerve sparing because it is influenced by wide range of factors including age, medications as well as emotional and psychological stress.
WILL I BE ABLE TO EJACULATE AFTER UNDERGOING A PROSTATECTOMY?
The fluid in semen is produced by the prostate and seminal vesicles. With radical prostatectomy, the semen's pathway is removed. As a result, you will experience as dry orgasm that lacks ejaculate.
WILL I BE ABLE TO ORGASM AFTER UNDERGOING A PROSTATECTOMY?
Orgasm can still occur as long as normal sensation is intact. Because orgasm happens in the brain, you'll still able to have an orgasm without a prostate.
CAN I STILL PRODUCE CHILDREN AFTER PROSTATECTOMY?
Since the semen can no longer be ejaculated due to the removal of the semen pathway during radical prostatectomy, you will not be able to ejaculate. If you're planning to have children, you sperm cells may be extracted from the testes or epididymis. You may also choose to cryopreserve your sperm before the procedure.
IS TRAVELLING ALLOWED AFTER ROBOTIC PROSTATECTOMY?
Yes, patient may travel by car or plane in five days after the procedure.
MAY I RESUME MY DAILY ACTIVITIES SUCH AS GOING TO THE GYM AND WORKING OUT?
Patient can return to their daily activities within four weeks, however they should avoid vigorous exercises like weightlifting until six weeks after the operation.  
HOW WOULD I KNOW IF MY KIDNEY TUMOUR IS CANCEROUS?
Generally, most kidney tumours are cancers. Smaller tumours are more likely to be benign, however, benign kidney tumours should still be removed as they may grow over time.
SHOULD I HAVE A NEEDLE BIOPSY OF THE TUMOUR PRIOR TO TUMOUR REMOVAL SURGERY?
Traditionally, needle biopsies are rarely performed for kidney tumours due to risks of bleeding, tumour spread and false diagnosis. With improved technology, emerging evidence suggests that biopsy is safe and accurate. However, biopsy is indicated only if diagnosis is in doubt on radiology or patient is unfit for surgery. Once the tumour is removed from the body, a pathologist will formally evaluate to determine what kind of tumour it is. This gives the most accurate diagnosis.
ARE KIDNEY CYSTS CANCEROUS?
While some kidney cysts are cancerous, most are not. If a kidney cyst appears "complex" on a CT scan, MRI or ultrasound, then it may be cancerous and will need to be removed. Simple cysts usually do not need to be treated.
SHOULD I STILL HAVE MY KIDNEY REMOVED IF MY CANCER HAS SPREAD?
Current evidence suggests that in some patients in whom tumour has spread, removing the primary cancer in the kidney can extend life. Patients with metastatic kidney cancer need to be evaluated to determine how risky the surgery would be. If possible, it may be best to have a minimally invasive removal to limit recovery time and reduce pain of surgery.
WHAT ARE THE CHANCES OF CURINGMY CANCER?
Most kidney cancers are cured with surgical removal. If the cancer has spread, it may be difficult to cure. CT scans are routinely performed in follow up to enable early detection of any recurrence in future.
HOW ARE KIDNEY TUMOURS REMOVED?
Traditionally, kidney tumours were removed through open surgeries with painful and large incisions. Today, open surgeries are being replaced by minimally-invasive surgeries using robots and laparoscopes, resulting in smaller incisions, less pain and faster recovery time.
WHY SHOULD I HAVE A PARTIAL NEPHRECTOMY AS OPPOSED TO A TOTAL KIDNEY REMOVAL?
Partial Nephrectomy for small tumours preserves part of the patients' kidney while getting rid of the cancer or tumour. As a result, the patient keeps most of the kidney and often maintains better overall kidney function and lifespan.
WHAT TYPES OF QUESTIONS SHOULD I ASK MY SURGEON PRIOR TO KIDNEY SURGERY?
Consider the following questions to ask your surgeon:
Can kidney surgery be done robotically?
Kidney tumours removed robotically have the same outcomes as open surgery and results in quicker recovery times and significantly less pain.
Can I have a robotic partial nephrectomy for complex tumours instead of total removal or open surgery?
We uses robotic assistance to successfully perform partial nephrectomy for even the most complex tumours including tumours situated deep within the kidney and tumours adjacent to crucial vessels that supply blood to the kidney.
What formal training do your surgeons have in robotic and laparoscopic surgery?
Surgeons in Department of Urology at Max Hospital are well trained and experienced to do Robotic Surgeries. Robotic urological procedures are routinely done in the Department.
IF YOU HAVE TO OPEN UP THE PATIENT, ARE YOU EXPERIENCED IN OPEN KIDNEY SURGERY AS WELL?
Yes, most urologists are trained in performing open kidney surgery. We offer robotic, laparoscopic and open surgery for kidney cancer.
WHAT IS PARTIAL NEPHRECTOMY?
Some of kidney tumours, masses or complex cysts can be treated with a procedure called Partial Nephrectomy, which is the surgical removal of the cancerous section of the kidney. In this procedure, a very minimal portion of the normal kidney is removed with the tumour and the vast majority of the healthy kidney tissue is spared and surgically repaired so blood and urine can flow normally. This is sometimes called "nephron-sparing" or "kidney sparing surgery."
WHAT IS THE BENEFITS OF ROBOTIC ASSISTED PARTIAL NEPHRECTOMY?
Robotic-Assisted Partial Nephrectomy allows the removal and reconstruction of the kidney to be performed through multiple keyhole-sized incisions, as opposed to a single open incision measuring several inches across the side of the abdomen. This large incision with open surgery typically is painful and may require partial removal of a rib. Although laparoscopic Partial Nephrectomy can also be performed using smaller incisions, it can be technically challenging – so these procedures are more often converted to a total Nephrectomy.
During the robotic procedure, urologist may temporarily halt blood flow to the affected kidney before cutting away the cancerous area. The magnified view of the kidney and the ideal positioning of the surgical instruments allow the surgeon to work with great precision and control when removing the kidney tumor, preventing bleeding, and then repairing the delicate vessels and tissues of the functioning kidney to be left behind. The tumour is removed from the body (after being placed in a small plastic bag) through one of the keyhole incisions.
As with most robotic-assisted procedures, there is typically far less pain compared to open procedure, less blood loss (and therefore less need for a blood transfusion), less scarring (both internally and externally), a shorter hospital stay (2 or 3 days versus up to a week), and shorter overall recovery time before a return to normal activities.
WHAT IS THE ADVANTAGES OF A PARTIAL NEPHRECTOMY?
Partial nephrectomy offers two main advantages: it may decrease the risk of long-term kidney failure, and also the partially preserved kidney acts as a reserve if the other kidney is damaged. Keeping as much healthy kidney tissue as possible may help you avoid the need for dialysis in coming years, especially if you have pre-existing high blood pressure and diabetes. Many studies show that cancer survival rates in patients having partial nephrectomy are equivalent to those seen in patients having radical nephrectomy; however, the patients having the kidney-sparing procedure also benefit from many other long-term health advantages and improved overall survival.
ARE UROLOGISTS AT MAX HOSPITAL EXPERIENCED ENOUGH TO DO ROBOTIC ASSISTED PARTIAL NEPHRECTOMY?
We are experienced enough in Robotic-Assisted Partial Nephrectomy and related procedures and treatments. We have performed many successful partial nephrectomies in patients who previously had been told that their whole kidney needed to be removed. We also are able to perform robotic kidney procedures in the vast majority of patients with risk factors (such as patients with obesity, multiple prior surgeries, older age, early spread of the tumour into blood vessels, or complex medical conditions) who might otherwise be told that they are not eligible for open or minimally invasive surgery.
WHAT IS ROBOTIC-ASSISTED RADICAL NEPHRECTOMY?
In cases where the kidney tumour is too large or problematic to spare the kidney, or in cases when the kidney no longer functions (sometimes due to non-cancer reasons), recommendations are complete surgical removal of the kidney. (Note that removal of just part of the kidney is always preferred, and we may be able to perform partial nephrectomy—even in patients with complex tumours who have been told by others that they require a total (or "radical") nephrectomy.) The entire robotic-assisted procedure is performed through tiny keyhole-sized incisions, as opposed to a large open incision on the side of the abdomen—an incision that is often painful and requires partial removal of a rib.
The abdomen is first inflated with air (carbon dioxide) to provide the surgeon with enough space to move the colon away from the kidney. The surgeon identifies and clips off the blood vessels leading into the kidney so that blood flow is permanently halted. The kidney is then surgically removed from the bowels, liver, spleen, pancreas, and/or back muscles. In most cases, the adrenal gland is spared.
Once free, the kidney is specially bagged inside the body and then removed by a small incision which lies below the belt line. In some cases, nearby lymph nodes are also removed and examined (lymph node dissection) as part of the nephrectomy.
WHAT ARE ADVANTAGES OF ROBOTIC ASSISTED RADICAL NEPHRECTOMY?
As with most robotic-assisted procedures, there is typically much less pain than with the open procedure, less blood loss (and therefore less need for a blood transfusion), less scarring (both internally and externally), a shorter hospital stay (usual 1-2 days versus up to a week), and shorter overall recovery time before a return to normal activities.
WHAT IS THE INDICATION OF ROBOTIC-ASSISTED PARTIAL CYSTECTOMY?
For patients with superficial bladder cancer, the standard surgical treatment is to resect the cancer from the bladder using a traditional scope through the urethra. In select cases of invasive bladder cancer, based on the location and type of tumor, a patient may be eligible for a robotic bladder-sparing procedure called a partial cystectomy. A partial cystectomy allows the patient to keep most of the bladder and therefore also help retain relatively normal bladder function. Nearby lymph nodes in the pelvis may also be removed to help determine if the cancer has spread. In some cases, the patient receives follow-up immunotherapy or chemotherapy inside the bladder or throughout the body.
WHICH SUBSETS OF PATIENTS' NEED ROBOTIC-ASSISTED RADICAL CYSTECTOMY?
In cases of invasive bladder cancer, when cancerous cells have spread into the bladder muscles, the entire bladder must generally be removed along with some or all of the adjoining structures.
WHAT ARE THE MAJOR STEPS IN ROBOTIC-ASSISTED RADICAL CYSTECTOMY?
Radical cystectomy involves three major parts:
Removal of the complete bladder via anterior
Exenteration or cystoprostatectomy
Removal or dissection of the pelvic lymph nodes
The construction of a new, substitute bladder or urine drainage conduit
WHAT IS ROBOTIC-ASSISTED ANTERIOR EXENTERATION?
In female patients, a radical cystectomy is also called an anterior exenteration and usually includes the removal of the bladder and when applicable, the uterus, and a section of the vaginal wall that is attached to the bladder. The ovaries and fallopian tubes can often be spared.
WHAT IS ROBOTIC-ASSISTED CYSTOPROSTATECTOMY?
In male patients, a radical cystectomy is also called a radical cystoprostatectomy and the procedure usually  involves the removal of the bladder, the prostate, and the pelvic lymph nodes. In some cases the complete urethra also will need to be removed as well.
WHAT IS ROBOTIC-ASSISTED EXTENDED TEMPLATE PELVIC LYMPHADECTOMY (PLND)?
For most cases of invasive bladder cancer, a thorough lymph node dissection is recommended. Some studies show improved cancer specific survival in patients who receive a more complete PLND. Lymph node dissection in the pelvis is complicated and technically demanding because the lymph nodes are wrapped around large blood vessels and nerves.
HOW IS BLADDER RECONSTRUCTED AFTER REMOVAL?
When it comes to bladder reconstruction, there are three main surgical options:
The Neobladder method creates a new bladder from part of the small intestine. The intestine is surgically connected to the urethra and ureters so that patients can continue to urinate through their urethra.
The Conduit method attaches a smaller section of small intestine to the abdominal wall and ureter. Urine is collected in a urine bag that is worn on the outside of the body.
The Reservoir method uses a section of the small intestine to create a pouch which collects urine inside the body. The patient must manually empty the pouch through a catheter every three to four hours.
WHICH METHOD OF BLADDER RECONSTRUCTION I NEED?
The exact method of bladder reconstruction depends on a number of factors, including:
Patient needs and additional health factors
Type and extent of bladder cancer
Specifics of the cystectomy performed
Patient must discuss the type of bladder reconstruction
Prior to surgery with the surgeon
WHAT ARE THE BENEFITS OF ROBOTIC-ASSISTED RADICAL CYSTECTOMY?
As with other urologic cancer surgeries, we offers a robotic-assisted minimally invasive approach to partial bladder removal, radical cystectomy, bladder reconstruction and pelvic lymphadenectomy. The increased precision and range of motion afforded by the robotic instruments are critically important in helping to remove the cancer while also avoiding additional damage to the surrounding nerves and tissue; this heightened precision can, in some situations, preserve sexual function in men. 
The robotic-assisted procedures typically produce much less pain than the open procedure, as well as less blood loss (and therefore less need for a blood transfusion), less scarring (both internally and externally), and shorter overall recovery time before a return to normal activities. 
Robotic bladder procedures can be done for patients with special needs or risk factors (those with obesity, multiple prior surgeries, older age, early spread of the tumor into lymph nodes, or complex medical conditions) who might otherwise be told that they are not eligible for open or minimally invasive surgery. Using the robot, we can complete lymph node dissections that match or surpass what the most experienced open surgeons are able to offer. We also offer complete robotic urinary diversion procedure which avoids a big abdominal incision.
Partial bladder resection for benign bladder tumors
Pyeloplasty for ureteropelvic (UPJ) obstruction
Adrenalectomy for adrenal tumors
Cyst ablation and nephrectomy for cystic kidney disease
Ureterolysis for retroperitoneal fibrosis
Resection or biopsy for retroperitoneal mass
Ablation for seminal vesicle cyst
Traditionally, kidney transplantation is carried out through an incision in the lower abdomen. The length of the wound varies depending on surgeon's preference and the body habitus of the patient. In general, obese recipients require larger incisions. Similarly, in children, compared to body size, larger incisions are placed for kidney transplantation.
Several risk factors for wound related problems are already known like obesity, diabetes mellitus, smoking, etc.
Transplant patients have additional risk factors like use of immunosuppressants and additional comorbidities.
In general, larger wounds are associated with more wound related problems in terms of more pain, longer convalescence and postoperative recovery, poor cosmesis and higher chances of wound infection(especially with immunosuppression).
Minimally invasive surgery: including laparoscopic and Robotic assisted kidney transplant are feasible.
Advantages of da Vinci robotic surgical system over laparoscopy:
Three‑dimension vision,
Control of the camera by surgeon,
Articulated wristed instruments with 7° of movements leading to ease of suturing,
Eliminates human tremor‑an essential requirement for performing a good vascular anastomosis.
Precise and fast suturing
Limitations of Robotic assisted kidney transplant:
Cost of the operative procedure is high compared to open Kidney Transplant.
Operative time is greater than standard open kidney transplantation
Patient eligible for robotic kidney transplant:
Chronic kidney disease requiring dialysis
Chronic Kidney disease with symptomatic uremia
Chronic kidney disease with GFR<20ml/min
Patient not eligible for Robotic Kidney Transplant:
Previous major intra-abdominal surgery with high suspicion of intraabdominal adhesion
High risk patients
Second transplant
Highly sensitized patients
Procedure:
Port Placement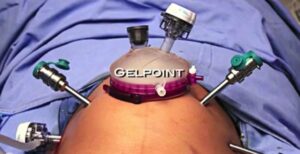 Port Placed with Robot Docked
Final Vascular anastomosis: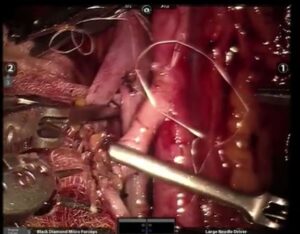 Robotic assisted transplant Incision versus conventional open transplant incision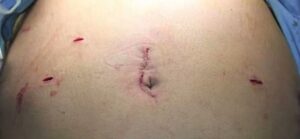 Robotic transplant incision
Results of Robotic assisted kidney transplantation are comparable to standard open kidney transplant
Ureteral reconstruction
Ureteral reimplantation
For Appointment, Call: +91 9540295450
Mon-Tues-Thurs-Sat : 09:00 PM to 10:00 PM
Wed-Fri : 07:30 PM to 09:30 PM
Sunday : 09:00 AM to 11:00 AM
Dr Anantkumar Urologist
Best Robotic Surgeon In Delhi
Location: Max Supper Speciality Hospital (A Unit of Devi Devki Foundation) 2, Press Enclave Road Saket, New Delhi – 110017
Email: dranantkumar57@gmail.com
For Appointment, Call
Mon-Tues-Thurs-Sat : 09:00 PM to 10:00 PM
Wed-Fri : 07:30 PM to 09:30 PM
Sunday : 09:00 AM to 11:00 AM
Dr Anantkumar Urologist
Best Robotic Surgeon In Delhi
Location
: Max Supper Speciality Hospital
(A Unit of Devi Devki Foundation) 2, Press Enclave Road Saket, New Delhi – 110017